Books, Articles & Publications
The Complete Business Process Handbook Volume 1
Mark von Rosing, August-Wilhelm Scheer, Henrik von Scheel, et al
The Complete Business Process Handbook is the most comprehensive body of knowledge on business processes. With expert guidance from authors and editors Mark von Rosing and Henrik von Scheel, it is written as a practical guide for Executives, Practitioners, Managers and Students by the authorities that have shaped the way we think and work with process today.
Extended Business Process Management Volume 2
Mark von Rosing and Henrik von Scheel, et al
Volume 2 is the most comprehensive body of knowledge around Extended Business Process Design and Management. Revealing new research and gives the most comprehensive picture on contemporary Business Process Management (BPM). A practical guide for Executives, Managers, Practitioners, Researchers and Students with descriptions of how to work with BPM.
Leading Practices from the Outperformers Volume 3
Mark von Rosing and Henrik von Scheel, et al
Volume 3 is an extensive collection of award winning real-life examples of leading organizations who apply leading practices to outperform the market. Learning from the outperformers in terms of what works and what does not work, the book is structured as a practical guide for Executives, Managers, Practitioners, Researchers and Students with hands on descriptions of how to work with it.
Danmarks Fremtid (danish language only)
Mark von Rosing, Maria Hove, Henrik von Scheel, Bent Raymond Jørgensen, et al
Danmarks fremtrædende erhvervsfolk, vismænd og forskere er samlet for at give et unikt syn på hvordan Danmarks fremtid tegner sig. Danmark står midt i store forandringer. Som samfund er det ikke noget, vi lukker øjnene for. Vi konstaterer, at det sker, og vi ser og diskuterer hver eneste dag effekten af forandringerne. Vi erkender ikke til fulde, hvad der foregår, mens vi står midt i det hele.
Applying Real-World BPM in an SAP Environment
Mark von Rosing, Henrik von Scheel, et al
In this unique book, you will learn how to span the gap between business processes and information technology, as well as how to apply BPM within SAP projects. The authors provide extensive information on everything you need to know about the processes and methods to implement BPM (new ASAP, process-based implementation content, BPM technology, and more).
The Fusion Marketing Bible
Co-authored by Henrik von Scheel
The Fusion Marketing Bible is the next step that brings our 6,000 years of traditional marketing, the exciting digital marketing tools of the Internet, and social media and fully integrates them into one seamless tool set that will accomplish every goal you set!
Conceptual Structures in LEADing and Best Enterprise Practices
Simon Polovina, Mark von Rosing, Wim Laurier, et al
Conceptual Structures, namely Conceptual Graphs (CGs) and Formal Concept Analysis (FCA) are beginning to make an impact across industries. This is evidenced in LEAD as it seeks to provide its 3100+ industry practitioners in many Fortune 500 and public organisations with capabilities that can handle ontology and semantics. The existing ontology and semantics work in LEAD, supported by the Global University Alliance, is described and how CGs, FCA and their tools (e.g. CoGui, CG-FCA) enhance this endeavour.
The Impact of Culture Differences on Cloud Computing Adoption
Fan Zhao, Hans-Jürgen Scheruhn, Mark von Rosing, et al
To cut cost, while increasing competitiveness, more and more small and medium-sized enterprises (SMEs) are considering cloud computing technology for supporting their business processes.However, initial cost, possible long term cost, security, accessibility and transformation issues are concerned by the organizations. By adopting LEADing Practices and Hofstede [16] national culture dimensions, this study provides substantive conclusions about the transformation effects of national culture dimensions on cloud computing acceptance in organizations.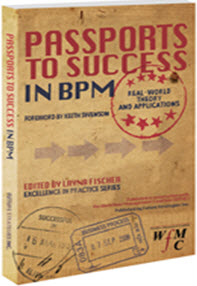 Passports to Success in BPM
Prof. Mark von Rosing, Maria Hove, Henrik von Scheel, et al
When you take the time to compare your own knowledge to that of others, you become better at learning. This is not a new phenomenon or concept; this is a basic reason why so many organizations want their employees to work together, to collaborate, and/ or to create the circumstances for them to share knowledge. The growing amount of software that supports collaboration to enable effective mutual learning is a confirmation of this trend. This chapter looks at why it's important to read the BPM case studies in this book, what we can learn from them and how we can make the most of them.
LEADing BPM Practice Case Story
Mark von Rosing, Henrik von Scheel, Anette Falk Bøgebjerg
In 1958 Godtfred Kirk Christiansen, son of Ole Kirk Kristiansen, made what would prove to be an extremely wise decision. On January 28, 1958, at precisely 13:58 he submitted a patent application for the LEGO® brick that was – literally – to prove to be the cornerstone of a toy fairy tale. At the start of the new millennium the LEGO brick was acclaimed "Toy of the Century" – first by Fortune Magazine and later by the British Association of Toy Retailers.
Initial thoughts on a Sustainability Framework
Mark von Rosing, Maria Hove and Henrik von Scheel
While economies are crumbling and markets are changing, customer are changing their demands as well. One of the biggest changes in customer demand is the need to be Sustainability-focused. A new research on this subject from UN Global Compact, underpins that 93 percent of 766 global CEOs surveyed believe that sustainability is critical to the future success of their companies. In fact, 80% of them said that the global economic downturn accelerated their conviction to embrace sustainability practices in order to differentiate in the market.
Getting Business Transformation Right - Combining BPM and EA
Mark von Rosing, Maria Hove, Raghavendra 'Rao' Subbarao and Tom W. Preston
This paper presents the up-to-date subject of why BPM and Enterprise Architecture should be an integrated part of any complex Business Transformation project. While nearly all Business Transformation methods include approaches for handling or working with processes, none of the existing approaches actually incorporate Business Process Management and Business Architecture disciplines.
Business Value Management: A Way To Plan, Create and Realize Value (danish paper)
Mark von Rosing
Et interessant faktum om virksomheder er, at det at de bruger hovedparten af deres tid i forsøget på at realisere værdi er i sig selv ret forståeligt, men det er en fatal misforståelse, at de ikke ser det faktum, at der er en direkte forbindelse mellem værdiplanlægning, værdiskabelse og den efterfølgende realisering deraf.
Defining the Business Architecture Profession
Hendrickx, H.H.M.; Daley, S.K.; Mahakena, M.; von Rosing, M.
This paper presents the cumulative findings from an over three year investigation and collaboration journey by the Enterprise Architecture University Alliance. It is inclusive of the field-based view of the Business Forum of The Open Group regarding the Business Architecture profession.
LEADing Practice Business, Information & Data Object Modelling
Authored by LEADing Practice community members
This paper describes what business, information and data objects are in terms of LEAD context and displays methods of how to work effectively with these objects using a structure Way of Thinking, Way of Working and Way of Modelling.